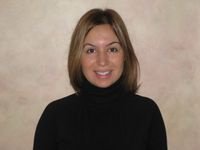 Maria Anastasiou is a Licensed Marriage and Family Therapist whose mission is to help couples and families thrive. She aids people in understanding their core feelings and issues. By following their emotions, she helps people connect the past to the present, and develop a coherent sense of self and relationships.
Working together, her clients learn the skills they need to create the relationship, family, environment or self they want. Maria truly enjoys working with couples to help them create a long-lasting and fullfilling relationship. She believes that all couples have the capacity to feel close, and continue to grow together.
She has advanced training in Emotionally Focused Therapy, which research has shown to be effective 70 to 85% of the time in improving the bond in couples. She also uses Solutions Focused Therapy and Internal Family Systems to match the treatment needs to her clients and their situation.
Maria earned her master's degree in Marriage and Family Therapy from Virginia Technic Institute in 2006. As a resident, she gained valuable experience at Ft. Belvoir working with military couples, families and individuals dealing with multi-layered issues. She has also worked as a home based counselor helping children, adolescents and their families resolve conflict. She completed her professional residency here at Mount Vernon Family Therapy Associates.